SEED MONEY PROJECTS
2020 PROJECTS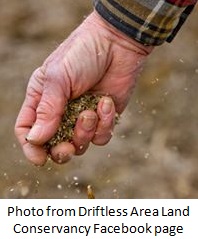 In early 2018, Food, Faith and Farming Network held a series of listening sessions with farmers and community members in Southwestern Wisconsin. The sessions resulted in the Network establishing a Seed Money Initiative to support projects that address issues raised in the sessions. In 2019 we awarded a total of $8,595 to 6 initiatives. In 2020 we are offering a total of $12,050 to 9 projects in the following counties: Crawford, Dane, Grant, Green, Iowa, Lafayette, Richland, Sauk. See the following short descriptions of these projects. Due to the challenges presented by COVID-19 we understand that some projects will need to be reevaluated and adapted to reflect current conditions.
DODGEVILLE FARMERS MARKETS (DFM)
DFM, building on a very successful program in 2019, is expanding its efforts to enable seniors, WIC, EBT/SNAP participants to purchase fresh produce, eggs and honey from their market by doubling up their benefits. These efforts not only benefit consumers but grow the local economy by guaranteeing increased sales for farmers.
FOOD ARTISAN IMMERSION PROGRAM
In its third year, Taliesin's Food Artisan Immersion Program (FAIP) is expanding the garden that students tend and harvest for meals served in the Riverview Terrace Café housed in the Frank Lloyd Wright Visitor Center in Spring Green. Students in the Artisan program gain skills in both growing and preparing food for the Center.
GRANT COUNTY RURAL STEWARDSHIP (GCRS)
GCRS sponsored a program, "Soil Health and Diversity: Keeping Farms Economically and Ecologically Sustainable" in February in conjunction with 6 co-sponsors. Speakers were Scott Mericka of Grass Dairy, LLC and Mike Miles from Anathoth Community Farm who both use practices that enrich and protect the soil and allow them to continue farming in a difficult agricultural industry economy. See our Home page for an article on this project.
HILL AND VALLEY EXPLORATION TOUR (HVE)
HVE Tour: a Celebration of Rural Living, held the last two weekends of September 2020 in Northern Sauk and Richland Counties, strives to connect rural venues with consumers, cooperatively advertise for economic development, assist young farmers, and provide hands-on education about agriculture. In its fourth year, the Tour seeks to increase agri-tourism and expand their economic revitalization efforts.
PRAIRIE STREET FARMERS MARKET (PSFM)
PSFM is striving to grow their farmers market by expanding promotional efforts through social media and print/radio spots. Working with the Prairie du Chien High School Agriculture Department they will select a student to work on marketing and hospitality from May through mid-October to build market visibility among local residents and visitors.
RESIDENCY ON THE FARM, WINTER RESIDENCIES
Residency on the Farm brings artists to Lafayette County for a 4-day immersion into rural life during the summer months. Looking to expand this successful program, they are offering Winter Residencies in 2020. From locally sourced meals to lectures from field ecologists and farmers and visits to source farms, artists build relationships with those who tend the soil and, in turn, share their artistic talents with local communities.
SAUK COUNTY CONSERVATION NETWORK (SCCN)
Realizing how essential it is to protect natural resources in Sauk County, SCCN was established in 2016 to foster communication among organizations, government agencies, businesses and individuals to meet common conservation goals. To nurture networking and avoid duplicative efforts among over 50 conservation groups, SCCN is developing their website to include a searchable directory of their member organizations.
SOUTHWEST WISCONSIN GRASSLANDS NETWORK (SWGN)
SWGN is holding Conservation Road Shows throughout Lafayette, Iowa and Grant counties between May and September to engage farmers, civic leaders and rural residents in conservation stewardship programs and practices and connect farm/property owners with a grazing specialist/soil conservationist.
STRONGER TOGETHER; FARMING IN CHALLENGING TIMES
Southwest Wisconsin Community Action Program and UW-Madison Division of Extension Richland County joined forces this fall to address the number of farmer suicides and current farm stress in Richland County. They are bringing farmers, their families and community members together on a monthly basis to make connections and learn strategies to address current concerns as raised in 2019 listening sessions.
2019 PROJECTS
REGENERATIVE AGRICULTURE EVENT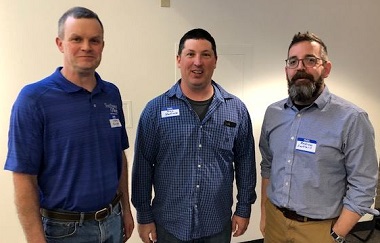 Grant County Rural Stewardship (GCRS) reports that the program they sponsored in late March 2019 was both well received and worthwhile. Entitled "Farmer to Farmer: Regenerative Agriculture", GCRS in conjunction with co-sponsors UW-Platteville School of Agriculture, UW-Platteville Sustainability, Crawford Stewardship Project and Sustain Rural Wisconsin Network planned the event in an effort to reduce tensions between conventional, organic and Amish farmers and educate them on the value of Regenerative Agriculture.
The 3-hour event on Saturday, March 30, 2019 on the UW-Platteville Campus brought 70 people with a high percentage being farmers. The keynote speaker, Dan Shelliam, showed slides from his Hazel Green farm highlighting the positive effects of using Regenerative Agriculture practices such as no-till planting, perennial cover crops and grazing.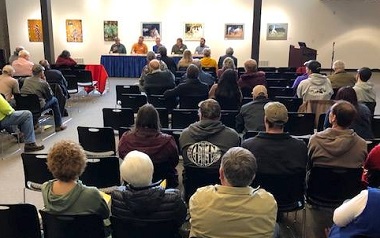 Following Dan's talk a panel of experts comprised of Tom Hamm, another local farmer using RA practices, Daniel H. Smith, UW-Madison, John Kvigne, Southwest Wisconsin Technical College, Joshua Kamps, UW Division of Extension and Andrew Cartmill, Ph. D., UW-Platteville. Moderator Gary Munson kept the conversation moving and fielded questions from a very engaged group of attendees. Questions were thought-provoking and responses informative as farmers shared their views on the pros and cons of Regenerative Agriculture.
During the breaks, attendees were able to network with each other and visit display tables for four organizations: Crawford Stewardship Project, Driftless Defenders, Food, Faith and Farming Network and Sinsinawa Mound Collaborative Farm. Attendees were provided a Resources list including several organizations involved with Regenerative Agriculture as well as websites to peruse for more details. On the evaluation forms, attendees encouraged GCRS to offer more programs in the future. Topics they were interested in learning more about included: agroforestry, cover crops, intensive rotational grazing, holistic grazing, agricultural impacts on watersheds/ground water, carbon sequestration and many more. www.facebook.com/grantcountyruralstewardship/
SOUTHWEST WISCONSIN GRASSLANDS NETWORK

The Southwest Wisconsin Grasslands Network initiated a campaign, Landowner(s) Matters, designed to ascertain information about landowner values and interests, and the barriers that landowners in Iowa, Grant, and Lafayette Counties face in implementing conservation practices. This partnership-landowner effort developed effective, values-based outreach with the purpose of increasing landowner engagement in conservation of grassland habitat for declining grassland bird populations.
Our support enabled SWGN to conduct interviews with civic leaders and resource professionals across the region and provide local refreshments at two Women Caring for the Land Events, field days for women land/farm owners to discuss integrating conservation practices into land/farm management. SWGN conducted a survey of all residents in two important conservation areas within Southwest Wisconsin and offered Women Caring for the Land Events. www.driftlessgrasslands.org
CRAWFORD COUNTY MARKETS GROW
This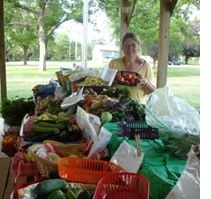 project connects and transports elderly and low-income residents to the Gays Mills and Prairie du Chien Farmer's Markets in Southwestern Wisconsin. The goal of the project was to help integrate elderly and low-income residents into the wider community, give them a chance to purchase fresh-picked produce and provide farm vendors with greater income by offering them a larger pool of consumers for their products. The local Aging and Disability Resource Center (ADRC) planned to provide their van to transport people (covering the cost of vans, gas and maintenance) and project monies would then be used to pay drivers for transporting people to the Gays Mills and Prairie du Chien markets. Involved organizations included: Crawford County Farmers Market Grow, Inc., Gays Mills Farmer's Market, Prairie Street Farmer's Market, Aging & Disability Resource Center of Eagle Country, Royal Bank of Gays Mills, Seneca and Gays Mills Lions Clubs, Coulee CAP of Southwest Wisconsin, and Community Foundation of Southern Wisconsin. https://www.facebook.com/CrawfordCountyFarmersMarketsGROW
BOSCOBEL FARMERS MARKET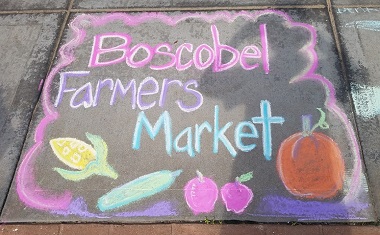 Networking with community groups, the Boscobel Farmer's Market has created a voucher system to be provided to local impoverished residents. They set voucher amounts at $5 and the vouchers are being distributed through The Tuffley Center, Boscobel Housing Authority and Southwest Wisconsin Community Action Program. To date 137 of the 300 vouchers have been redeemed. The voucher can be used for items sold at the Boscobel Farmer's Market. New customers who have never previously attended a market expressed how grateful they were to be able to purchase fresh produce that they would not otherwise be able to afford. Free transportation is available to people in need from the Aging and Disability Resource Center of Grant Co. to the market. www.facebook.com/boscobelfarmersmarket
WORMFARM INSTITUTE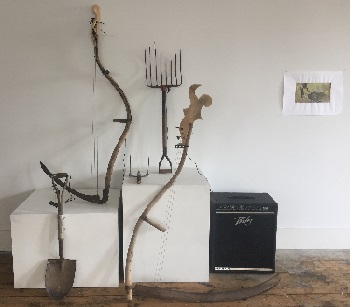 Bridging the divide between rural and urban through food, art and ideas, Wormfarm Insitute is advancing collaborative projects and events in and between Sauk and Milwaukee Counties. Rural and urban partners will come together at Farm Aid Music Festival on Sept 21 at Alpine Valley Music Theater in East Troy, WI with an interactive music project called Earthtones and a mural weaving project that will collect well used work clothes from farmers and urban gardeners/ eaters, cut into strips and woven together on two 7x6 foot looms. After Farm Aid, components of this project will be reactivated in both Milwaukee and at Fermentation Fest in Reedsburg in October. www.wormfarminstitute.org
HILL AND VALLEY EXPLORATION TOUR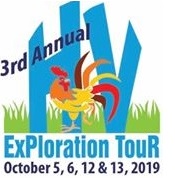 Hill and Valley Exploration Tour: a Celebration of Rural Living, is a hands-on, direct market opportunity that provides community visitors the opportunity to talk directly with local farmers and experience rural life first hand. In their third year, the group will sponsor a kick-off event on Sept 8 in collaboration with Edgewood College. The event will showcase a trail of picture frames through the countryside the goal of which is to draw ecotourists to the area and bring attention to the Tour.
The Tour is a cooperative venture of rural farms, businesses, historic sites, educational institutes and artist studios, striving to connect rural venues with consumers, cooperatively advertise for economic development, assist young farmers, and provide hands-on education about agriculture. This flyer provides details on the 2019 Tour the first two weekends of October. www.explorehillandvalley.com